Please note that as of the new Asset Management System (AMS) implementation in June 2017 this guide is no longer up-to-date. This section has been flagged for a future update.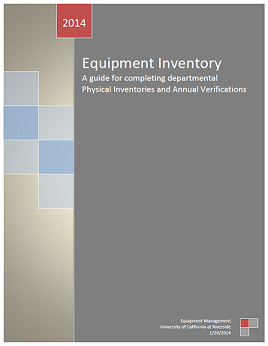 Equipment Inventory Guide
Last Updated 1/24/2014
This guide gives a comprehensive summary of the Inventory requirements of the campus for the annual Inventory Verifications and Bi-annual Physical Inventories. Additionally it gives a summary of the Equipment Management Systems functions and how to use the system to complete the online verification process.
Equipment Inventory
It is a requirement of the Federal Government and of University Policy that campus equipment inventories must be completed annually in order to ensure the accuracy of inventorial records in the Equipment Management System. There are two required inventory confirmations that departments must complete by the annual Inventory Completion Date. The first is the campus equipment inventory that must be verified every year. The second is a physical inventory must be conducted at least once every two years.
Inventorial Verification involves ensuring the accuracy of all equipment records for your department with the information that is listed in the Equipment Management System. Physical Inventories are carried out in the same manner as inventorial verification but additionally the departments are required to physically locate the actual equipment before confirming the equipment records accuracy.