User Guide Home
As part of campus Organizational Excellence and Lean thinking processes, Business & Financial Services and Computing & Communications are pleased to announce the deployment of a new web-based Asset Management System (AMS) to replace the aging IBM mainframe Equipment Management System (EMS) effective June 2017.
This guide was created to assist departments with understanding the assignable system roles, navigation, and features. If you have any questions that are not answered within this guide please send your inquiry to amsfeedback@ucr.edu.
---
Quick Navigation
---
AMS Training Presentation Materials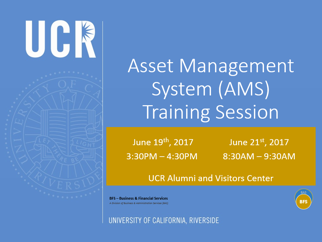 Asset Management System (AMS) Initial Training Session

This is the slide deck used for the initial AMS Training Sessions held in June of 2007. The first portion of this presentation covers general information about the Equipment Management Office and the campuswide departmental responsibilities, while the second portion covers AMS functionality.

Click here to Download the Presentation »
Purpose of the AMS
The AMS is a University wide database of all the University's Inventorial Equipment assets which is administrated by the Office of Equipment Management. This system tracks all Inventorial Equipment assets under the University's custodial control regardless of the assets current titleholder or current fair market value.
Generally, the AMS was implemented in order to:
Maintain accountability of University, Federal, and Agency assets in the custodial control of the University.
Ensure compliance with the terms and conditions of university awards and University policy
Facilitate the property reporting requirements of Federal and Agency awards
Ensure proper procedures for dispositions and transfers of university assets
Track and verify departmental completion of the mandatory inventories
Provide departments a user-friendly and readily accessible tool
For more information pertaining to the policies and procedures that necessitate the implementation of the AMS please refer to: Business & Finance Bulletin BUS-29: Management and Control of University Equipment (BUS-29).
AMS Roles
In the current AMS implementation, there is only a singular role assignable within the EACS. Over time it is the intent that additional roles will be created to meet a variety of campus and departmental needs.
Department Custodian (Equipment Custodian): This role is essentially a direct replacement of the prior Equipment Custodian role as it existed in the EMS. The Equipment Custodian is the individual in the department responsible for the integrity of asset data in the AMS. This individual will have the ability to:
View all asset records associated with their designated accountability structures;
Modify select asset record fields (such as serial numbers, location, condition, usage, and assigned user);
Attach documentation and images to asset records;
Request asset dispositions and transfers; and
Verify the completion of the Annual Inventory and biennial Physical Inventory.
AMS Home Screen
Equipment Custodians logging into the AMS will be greeted with a welcome message and should have access to the three functions shown below.
| | |
| --- | --- |
| | The Search Assets menu item contains a majority of the system functionality that Equipment Custodians will use in the course of their duties. In addition to asset searches, this menu item is also used to update assets, generate excel inventory spreadsheets, add attachments, and submit Equipment Inventory Modification Requests (EIMR) (for the dispositions or transfers of equipment assets). More information on the various functionalities can be located within the Searching Assets Section and Updating Assets Section of this guide. |
| | The Inventory Verification menu item is used by Equipment Custodians to view upcoming inventory verification requirements for all departments within their assigned accountability structure and to submit inventory verification entries for those departments during the mandatory University wide annual inventory and biennial (every two years) physical inventory. More information on the functionality of this tool can be located within the Inventory Verification Section of this guide. |
| | The Verification History menu item is used by Equipment Custodians to view prior inventory verification submissions that were completed for past annual inventories and biennial physical inventories. Upon the submission of a verification each individual asset verified and any pending EIMR's for those assets are saved to a "snapshot" and this record is stored in a Verification History for the department. More information on the functionality of this tool can be located within the Inventory Verification Section of this guide. |